BBC
From YouTube Logos
2005–2022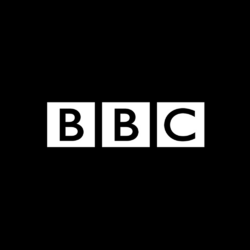 The three lines of the 1988 logo were removed from the logo, and the boxes and letters were also straightened up, making the boxes look similar to the 1958 logo. The typeface used is Gill Sans, made by Eric Gill in 1926. BBC1 and BBC2 were also renamed BBC One and BBC Two. By 2002, most services were using a different design with the logo and name on top of each other in a box. This logo is the longest-lived in the history of the BBC, having been used as primary logo for 24 years until October 2021 and continued as secondary logo for some services.
Since 2017, BBC has been slowly replacing Gill Sans with BBC Reith Sans and Serif, with the first being BBC Sport, followed by BBC Alba, BBC Studios after its merger with BBC Worldwide, then BBC Two's rebranding, then BBC Scotland's channel launch, then BBC News, the news channel, BBC World News, and most recently, BBC Radio and BBC Local Radio. The BBC officially introduced its new Reith logo on 20 October 2021, however, the 1997 Gill Sans logo continues to be used on some channels such as CBeebies, CBBC and the BBC News Channel, as well as all radio stations and international channels, with the logo said to be fully phased out in 2022.
2021–present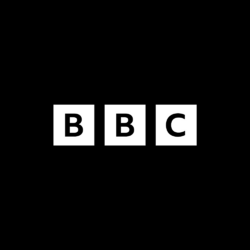 | | |
| --- | --- |
| Typography:  | BBC Reith Sans Bold |

Launched: 
Early 2021 (soft-launch)

20 October 2021 (full rebrand)
In 2021, it was revealed that the BBC was planning on rolling out a refresh of the Lambie-Nairn logo. The iconic boxes are subtly squared up and spaced outwards. The new lettering is in BBC Reith, the BBC's proprietary font, introduced in 2017 and designed by Dalton Maag. The rebranding was soft-launched in early 2021 in the BBC News beta app, and internationally through BBC Studios's streaming service BBC Select in North America, and BBC Kids in Australia. The BBC and its main terrestrial channels rebranded on 20 October 2021, such as BBC One, BBC Two (and BBC Scotland), and BBC Four, replacing the Gill Sans logo after 24 years, however channels such as BBC News (and BBC Parliament), CBBC and CBeebies still use the Gill Sans logo. The new logo is said to roll out gradually across all domestic and international services over the coming months, and is expected to be completed in 2022 in preparation of its 100th anniversary.
External links